Tags
action, android, diamond dash, electronics, fun, game addiction, games, iphone, play, puzzle, rune master, scramble, scramble with friends, sea stars, smartphones, social gaming, triple town
A smartphone as you know it can be a powerful hazard to your physical, mental and occupational health. And it doesn't help that multi-billionaire game giants like PopCap and Zygna have long expanded to platforms beyond IOS, shooting the accessibility of time-wasting gimmicks sky high, worldwide.
In fact, I've been putting this entry off for quite a while now because of the subject matter that I'm going to talk about; I'm not exaggerating the least bit when I say I can waste up to 7 hours a day on smartphone games. Here are the pocket pals that have ultimately ruin, and continue to demolish my days by inducing big addictions to a little touch screen.
1. Triple Town 
It's all about planning your steps carefully, no matter what item comes your way. Three grass clumps form a bush. Three bushes form a cottage. Three cottages form a house. Three houses, a mansion. Three mansions, a castle. And so on. Battle kawaii bears while you're at it, annoying mongrels that hop about and try to block your way – and if you play your pieces at the right time, they just might turn into mega-churches to form treasure chests. When you run out of moves, there's always the Facebook version to turn to if you haven't bought the paid version. Way more frustrating and engaging than your usual game of Chess or Go; there's no winning this game because it always reaches a dead end, but you can be sure to feel fulfilled when you achieve that sparkly floating castle or whatever might come after it. Talk about making the most of limited space!
Once my moves run out, I usually scramble over to… 
2. Scramble With Friends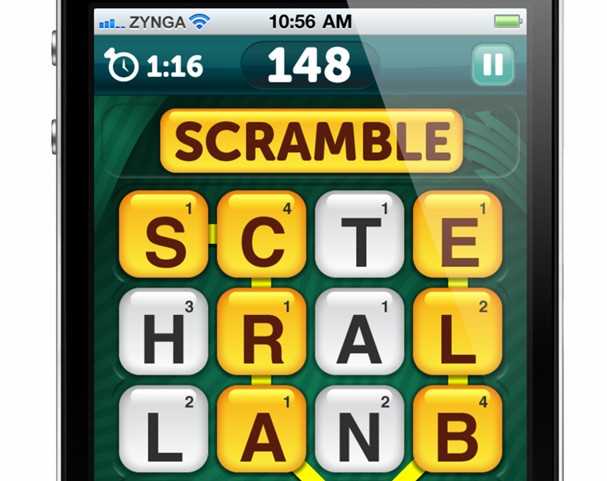 The latest social word game to hit the smart phone market. Gloat over your triumphs against your friends and parade your language snobbery by competing over who can display a wider knowledge of words in two minutes. After multiple rounds you can sense a pattern in letter permutations and it becomes a duel of memory capacity more than intellect, but that doesn't wear away the novelty of victory. Especially when your avatar does a little cocky dance after the third and final round of word play.
Once my tokens have been spent, I dash on over to… 
3. Diamond Dash 
Bejewelled whaaa? For the nimble fingers and minds who enjoy frenetic puzzle action. What beats playing this with the mouse is that you can get a friend or two to help you cheat with extra hands. Blow-up gems with the satisfaction of initiating the 'flaming mode', which you struggle to achieve and stay at for as long as you can – it's like a vicious cycle within 60 seconds of climbing up a hill, reaching the apex and struggling to balance at the tip only to stumble down and try all over again. Just keep away from this heart-popping frenzy before bed-time because it's sure to leave your senses (and fingers) tingling with excitement.
Once my hearts are exhausted, I dive into… 
4. Sea Stars 
Yes, it's more suitable for children given the cutesy graphics and weird telly-tubby-like voices that surface every time 'Rainbow Birds' mode is activated. But there's also so much more than just collecting coins or avoiding poisonous jellyfish and explosive rocket crabs. An extensive store of items, upgrades and characters are swell motivational factors for you to keep swimming; not to mention endless rounds of challenging quests. My focus on Sea Stars is starting to slacken a little due to its repetitive nature and limited engagement, but once in a while I do the little water-dance so that I can eventually save up for Niji the Narwhal (a whopping 500,000 coins). Slowly, but surely.
Once I've used up my free speed blaster packs and jellyfish shields, I sprint over to…
5. Rune Master 
This can probably be viewed as a puzzle game that's already out of date, but I've been consistently re-visiting it every once in a while since late last year, out of appreciation for being able to crack your brains without ever having to rush. Contrary timed puzzle block games like Diamond Dash, Rune Master is all about planning and calculating your next step with concise precision and care. But don't underestimate its hook of obsession even with its lack of urgency. This game kept me away from my job half the time, with my colleagues exchanging disapproving / knowing glances every time I walked away to the 'loo' to swop a few stones.
Forget training your eyes on the PC in LAN shops, forget battling it to the death on L4D or Team Fortress – why pay for gaming time or installation when you can switch between multiple time-suckers back-to-back, for free and on the go? It doesn't help that 'unpaid' versions are limited. Excuse yourself from your work station to embark on hour-long toilet breaks, or miss your train stop thanks to fully immersing yourself in game play, all for the sake of beating that high score or your friend's or accomplishing an all-important mission.
Who needs texting or movies / serials to keep you seemingly preoccupied so that you can avoid the social obligation of giving up your seat to some elderly dude or preggo? As long as you've got your smartphone packed with plenty of games, you're excused from having to display any forms of social graces. And if you ever tire of whatever you might be crazed over now, the App Store is always here to save the day. These evil productivity-stomping trolls, for sure, are here to stay.